Air Showers for Cleanrooms
Air Showers for Cleanrooms
Using high-velocity jets of air and HEPA or ULPA air filter systems, our cleanroom air showers remove loose contaminants from people and products before they enter the cleanroom, reducing or eliminating product defects for increased yields.

Cleanrooms are required to adhere to strict regulatory guidelines to prevent contamination. Coveralls and other protective gear are used to prevent outside contaminants from entering a cleanroom, but that isn't always enough. Contaminants are easily transported by people and objects and a simple spec of lint or debris could cause issues in some cleanroom environments. Therefore, cleanroom air showers have become a vital component in maintaining the cleanliness of cleanrooms and other clean-critical environments.

For more information on Clean Air Products' laboratory air showers, view our air shower brochure, technical documents, white papers, or read our air shower FAQs. Call our air shower experts at 888-985-2295 with any questions you have or to request a quote!
How Do Clean Room Air Showers Work?
Our standard cleanroom air showers are self-contained air recirculation systems that are specially designed for installation at clean room entry points. These phone booth-like cleanroom entry systems use high-velocity air to decontaminate personnel, equipment, and supplies as they make their way into the cleanroom.
As workers enter the air shower, the entry door closes and powerful jets of
HEPA-filtered
air blow over the worker from a number of adjustable, precisely-placed nozzles. These high velocity air streams blast contaminants large and small from the worker's cleanroom garments. Once the cycle is complete, the exit door of the self-cleaning air shower opens, and the worker moves on into the cleanroom itself.
Typical cycle completion for our cleanroom air showers is just 20 seconds. Microprocessor controls allow for fast and easy on-site adjustment of cycle times and other critical functions.
Cleanroom Air Shower Tunnels Prevent Contamination Between Cleanrooms
Cleanroom air showers can be combined to create self-cleaning air shower tunnels for environments where two or more cleanrooms are being utilized. Cleanroom air shower tunnels effectively remove particles as personnel and products travel between cleanrooms, significantly reducing the risk of contamination between work areas that have different ISO ratings. Up to five cleanroom air showers can be combined based on your requirements. Learn more and view the specifications by clicking on the product links below.
Choosing the Right Clean Room Air Shower
Finding the right cleanroom entry systems for your facility is not always easy. To determine what cleanroom air shower you need, consider the following factors:
The air shower should be modular to allow for easy configuration/reconfiguration, shipment, and assembly
Outer shell of the air shower should be constructed of stainless or painted steel
The blower system must provide high volumes of air at high velocity to effectively decontaminate personnel, equipment, etc.
Clean room air showers should have a high number of air nozzles; nozzles should be adjustable
The unit should include a magnetic door interlock system, with appropriate controls
View our Air Shower FAQs to learn more about selecting the right self-cleaning air shower for your cleanroom environment.
Benefits of Decontamination Air Showers
Air showers are only a small percentage of the cost for the entire cleanroom, but they can save you thousands by preventing contamination that could affect the quality or usefulness of products and equipment.
Additionally, modular cleanroom air showers reduce the need for cleanroom maintenance because the contamination load will be lower. Your cleanroom's HEPA and ULPA filters will last longer, and overall energy costs will be reduced. Air showers for cleanrooms can also improve efficiency by limiting particle buildup. This improves the efficiency of the HEPA filters by putting less stress on them.
Air showers provide the cost-effective contamination control technology that your applications need to improve the quality of your products.
Low Profile Air Showers
Low profile cleanroom air showers are enclosed chambers that are strategically placed at a cleanroom's entry and exit points to remove loose contaminants from people and products before they enter the cleanroom. The low profile design provides sleek entrance and exit points that are shorter than standard air showers, which is ideal for rooms with low ceilings.

Like standard air showers, low profile air showers utilize high-velocity jets of air and HEPA or ULPA air filter systems to reduce or eliminate particles and contaminants prior to entering or exiting a cleanroom environment. Typical cycle completion for cleanroom air showers is approximately 20 seconds.
Types of Air Showers from Clean Air Products
Our modular cleanroom air showers are made from durable, heavy gauge painted steel construction and feature high velocity air filter systems for fast, efficient cleaning. Magnetic interlocks secure the entry and exit points, and LED lighting provides high visibility in low-light environments.
Standard-size HEPA filters and prefilters are installed for zero-leak, negative pressure reliability seals and silicone-free urethane sealant ensure a tight seal throughout the cleanroom air shower.
Laboratory air showers from Clean Air Products also feature microprocessor-controlled cycle times and touchscreen controls that make our laboratory air showers easy to use. When maintenance is required, the inspection panels provide access for fast and easy service.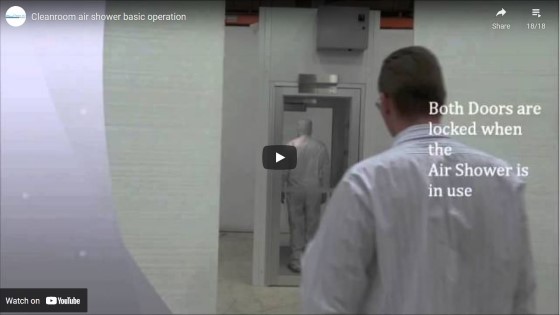 Air Shower Systems are Used for a Variety of Applications
Installed as cleanroom entry systems, air showers reduce contamination as personnel enter the clean production space. A worker passes through the entry door, the door closes, and high velocity streams of HEPA filtered air is blown onto the worker from numerous precisely placed, adjustable nozzles. This high velocity air creates a flapping effect on the worker's clothing, which allows contaminant to be removed from their cleanroom garments.
As the cycle ends, the exit door unlocks, and the worker exits the air shower into the cleanroom. Typical cycle time is ten seconds. An adjustable microprocessor allows for easy "on-site" adjustment of cycle times and other critical process controls.
Cleanroom air showers can also be used to remove particulates as personnel leave areas before going out into the general public, or to prevent cross-contamination when workers move from one workspace to another.
Air showers for cleanrooms are used in a variety of industries where contamination could be detrimental, including:
Custom Air Showers in Countless Configurations
We can build customized cleanroom air showers to match nearly any specification. Because we offer so many customizable options, the possibilities are all but endless. All custom air showers from Clean Air Products are constructed from durable, cold rolled steel shells sealed with low-gassing epoxy or urethane sealant. The doors are hydraulically operated with magnetic locks and feature safety glass with an anodized aluminum door frame.
Contact Us for Air Showers for Cleanrooms
Maintaining contaminant levels is critical, which is why you need a modular cleanroom shower that is reliable and effective. Not all laboratory air showers are the same, and not all air showers perform the same in every situation.

Only Clean Air Products' air showers combine high-quality, all-metal construction with high performance, custom options and versatile configurations. The Clean Air Products design advantage makes these cleanroom air showers easy to install and maintain. Our laboratory air showers deliver maximum efficiency and value for your cleanroom or other controlled environment.

We are trusted cleanroom air shower manufacturers and provide the industry's best customization options. Clean Air Products designs and manufactures a full line of standard and custom air showers, as well as softwall and hardwall cleanrooms, fan filter units, and more.

Request a quote or contact us for air showers for your unique application.